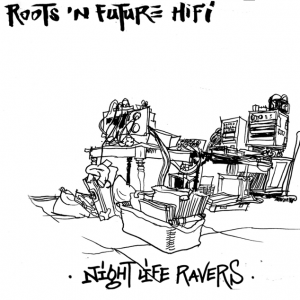 « The Dance crasher »
Drummer of High Tone, Dino is also the biggest defender of a massive dub Sound System, and officiates as selector / operator and dub producer ! This "steppactivist" wears the flag of the two High Tone's side projects, the "Dub Box" and "Dub Invaders", and acts as the finest selector in his field, bringing the roots and future of dub right to your ears ! Behind the « Control Tower », he presents productions of his own net label (JFX dubstore) High Tone dubplates and hand made dubwise !
His project Roots'n  Future Hi-Fi, was born to the release of a compilation of his remixes on the label Audioactivity  in 2010. He has since collaborated with singers Pupa Jim, Shanti D, Echo Ranks, Brother Joe Pilgrim, his productions and remixes were released on the net label JFX dubstore which he has initiated. Veteran activist of the dub scene, and sound systems, artists emblematic of this scene, Iration Steppas, OBF, Dub Machinist have also collaborated with ROots'n Future Hi-Fi and remixed those songs. Since two years, Dino works to the elaboration of a full LP of original composition, fed meetings of artists, singers and graphic artists. Stay tuned !

✰ Website : www.rootsnfuturehifi.org
✰ SoundCloud : soundcloud.com/rootsn-future-hi-fi
✰ AudioActivity NetLabel : www.audioactivity.net