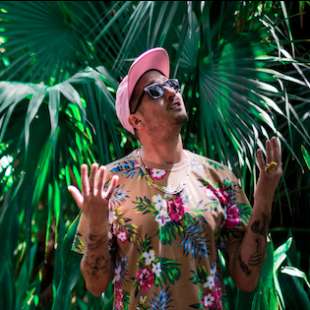 Style : crazy rap
Home : Florida, USA
New LP « Lauderdale » out sept. 2015 on Fake Four Inc.
Growing up in a place where nothing "cool" happens unless you make it happen forces you to develop a certain kind of drive. Raised under a NO BULLSHIT immigrant father and hippie mother who allowed their son to freely bump Poison Clan and Circle Jerks at a very early age. With an older brother who taught him to love BASS Music, and a neighbor who taught him to skate, fight, and make bombs, Bleubird raps from an interesting perspective. He caught the tail end of the "Indie Rap" wave and managed to ride it throughout the world until it crash-landed him back home in South Florida where he was happy to embrace his roots and welcome the maddening sun blotto. Mike Patton once called him stupid and one time, in a cab in Zagreb, Kevin Martin told him he cusses WAY TOO FUCKING MUCH. He neither looks nor acts his age, it is impossible to put him in a box or keep him standing still for more than a moment, and his vast catalog of diverse music speaks for itself.
Bleubird is the impersonation of the Do It Yourself process. Coming from Florida, he's selling records during daytime, and turns into a wild and stylish MC at night. Father of a local "alternative" revival, he organised epic gigs to express his sarcastic poetry supported by an
innovative noisy background.
It is the use for the American folk to take a credit from the bank to buy a massive car or a big screen TV. Bleubird did it to finance his first tour. He also took part in the Moondata Labprojects Sessions or in the Gunporn collective. He shared the stage with Deerhoof, Battles, Masta Ace, Fatlip, Amon Tobin, Kid Koala, Otto Von Schirach, De Bug, Dalek, Lightning Bolt, Anti Pop Consortium, Mike Ladd, Xiu Xiu and even a 50 Cent poster.
Programmed at the Montreux Jazz Festival, his music gave him the opportunity to tour around the world, and to play in Europe, Japan, India or Jordania.
New « Lauderdale » LP is out since sept. 2015 on FakeFour Inc.
"Florida – where your dreams go to die, but the dead walk…"
News stories coming out of Florida are often so bizarre and dicult to believe that they have spawned games like Late Night with Seth Meyers's Fake or Florida, where the host shares an absurd news bit and has audience members guess on its validity.
Florida Man Threatens Life of Drunken One-armed Mexican Chop Shop Operator for Leaking Hazardous Fumes into Adjacent Recording Studio.
Florida Man Accidentally Feeds his Dreadlocks to a Dog Named Gandhi.
Florida Man Enlists Honey Boo Boo Director for Latest Southern Rap Video.
None of those headlines ever made it to Fake or Florida, but they are all true stories. And they all involve a FL rapper by the name of Bleubird.
Somewhere between the tropical beaches, pockets of culture-starved boredom, retirement communities, and bath salt cannibals, lies a small community of DIY artists playing the hands they were dealt and trying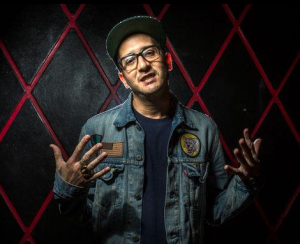 to build something in the void. Bleubird is one of these people.
Born to an immigrant father and hippie mother in South Florida in 1982, Bleubird (Jacques Bruna) developed an early anity for 2 Live Crew and Public Enemy and eventually gravitated towards skating, ghting, and punk rock. Bleubird has released several full-lengths and EPs both as a solo artist and with groups such as Triune Gods and Les Swashbuckling Napoleons, hosted open mics and warehouse parties in Florida bringing together creative folks from multiple disciplines, and traveled the country in a decked-out van for two years turning every day into an impromptu concert-cypher-party with his FREEEBIRD project.
After stints living in Canada and Europe, Bleubird returned to the states to release his Fake Four debut Cannonball!!! and shortly thereafter began channeling his Floridian roots into a bass-heavy crew known as Death Jam Posse, writing his verses under the alias of Young Lauderdale and rapping hard as hell over beats from a local producer by the name of Mister Belvedere. 2015 saw the release of his stoned side project FTLiENS alongside producer Numonics, properly paving the way for the ever-evolving Bleubird's new full-length Lauderdale.
Recorded at Audio Architeks studio after the city kicked Bleubird and Belvedere out of the Broward County warehouse where they had been living and mapping out the record, Lauderdale splits the dierence between the escapist party rap of Young Lauderdale and the introspective, nuanced narratives that Bleubird has
been churning out since the turn of the century. Produced entirely by Mister Belvedere, the album features guest shots from fellow Florida natives Astronautalis ("FL AS FUH") and Pompano Slim ("LAUDERDALE SQUAD") as well as NYC rap duo Swag Toof ("$ALT LIFE $HAWTY").
Over 12 relentlessly upbeat Belvedere bangers, Bleubird goes back and forth between laidback, simplied patterns and a ferocious, rapid-re delivery to duplex his critics and muse on his place in hip hop, love for his hometown and uhhh… NPR. His passion, humor, and technical rap skills have coalesced into the most accessible album of his 15-year career.
Bleubird has traveled the globe many times over, rocked shows and collaborated with indie rap's nest (Grand Buet, Sole, Ceschi), washed dishes and worked odd jobs to live illegally in places like Montreal and Berlin, but was always bound for Fort Lauderdale to build new dreams in the place of any that may have died along the way.